Express your creativity and create your own  custom stickers or browse, customize and buy from thousands of awesome images. The perfect low cost choice for getting any message across. Stickers are great for brand promotion, special mailings, and scrapbooking. 
Choose from several shapes:  Round, Heart, Square, Triangle, Oval, Rectangle, Star 
Available in different sizes and sold as sheets. The price shown on the product page is per sheet.  The number of stickers per sheet depends upon size and shape.
Discount for bulk orders.
FEATURED STICKERS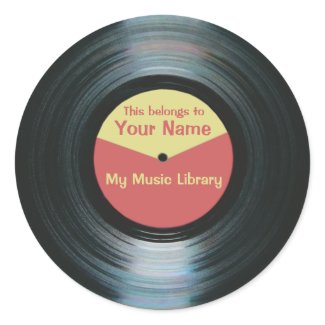 Black Vinyl Music Library Record Label Stickers
Stickers to keep track of your collection of CDs DVDs and Vinyl LP Albums or your library of books with this fully customizable sticker that you can personalize.
The labels feature a circular gramophone record to use as a label for all music in your library or collection of music. It looks like a vinyl or phonograph record from the era of the record player notable from the terminology - 33rpm, 45 rpm or 78rpm, long and medium play, mono, stereo and quadrophonic quality.
The disk's surface is black with light reflected off the spiral groove and a center label in yellow and red surrounding the hole about which the record rotates.
Easy to customize with your name and your text or message.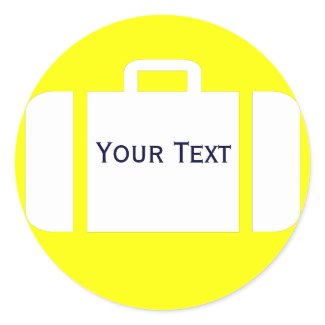 Luggage Name Label Sticker
If you travel a lot you'll know that finding your suitcase on a baggage reclaim belt at airports can be slow and risky when most of the luggage looks exactly like yours. Make sure you can easily spot your suitcase amongst dozens of look-a-likes with this visible label and that nobody can walk off with it by accident.
This brightly colored label, sold in sheets, shows a suitcase in white on a bright fluorescent yellow (you can change the background color). The text template provided allows you to pre-print your name. Add in travel itinerary on each sticker as you use it.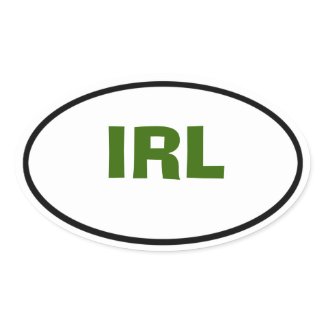 Create Your Own Oval Zazzle Sticker With A Border
Zazzle stickers are great stickers but they don't have a border. They are size 4.5" x 2.7" with 4 stickers per sheet. Normally they are plain white but we've added a border to each sticker for you in this fully customizable design that will add a little more flair to the basic sticker design. Add your text and any image that will suit. 
Customer Testimonial
Zazzle Stickers
Reviewed by
FPC
on .

Great Stickers!

I love the fact that I can create my own stickers! My husband is always running some type of trail run. Print Quality: Color, paper quality great. Recommended: Yes. Shipped on time: Yes.

Rating:
5
More Customizable Stickers with Color Borders
 Zodiac Theme - Ideal Star Signs For A Birthday
Personalize birthday gifts with a zodiac star sign sticker. All are fully customizable.
Wedding Theme Stickers - Gift tags and Save The Date
Christmas Themed Stickers and Stocking Fillers